Microsoft says that a new user activity-based expiration policy can be enabled for Office 365 groups by select Azure AD Premium customers starting today allowing for automated lifetime renewals without any user intervention.
Office 365 is part of the Microsoft 365 software bundle which also comes with Windows 10 and EMS (short for Enterprise Mobility + Security), a bundle which in Microsoft's vision provides customers with the easiest way of enjoying an easy to manage and secure online productivity platform.
Office 365 groups are the main collaboration method for Microsoft 365 customers, making it possible for users to communicate with their teammates while using various Microsoft apps such as Outlook, Teams, Yammer, and SharePoint.
New O365 group expiration policy in private preview
Select Azure AD Premium customers will be able to enable the new Office 365 groups expiration policy starting today, allowing active groups to avoid being deleted automatically after the group lifetime is reached, as Office 365 Groups Program Manager Salil Kakkar explains:
We are excited to announce the new version of expiration policy which ensures any group being actively used continues to [live on]. This feature makes life easier for users, including admins, group owners and members, by automating the expiration and renewal process by tracking groups for user activity across different apps, like Teams, SharePoint, Outlook, tied to the group.
The new activity-based Office 365 groups expiration policy will allow organizations to improve their groups' lifecycle management by keeping a balance between making sure that useful groups where employees are actively sharing are not haphazardly removed and deleting the ones no one uses anymore.
While the current group expiration policy will alert admins to remove or renew Office 365 groups for which the expiration timeframe has been reached, after enabling the new policy "groups which are being actively used will be automagically renewed."
The activity-based group auto-renewal behavior is based on user activity from Outlook, SharePoint, Teams, Yammer, and other Office 365 groups.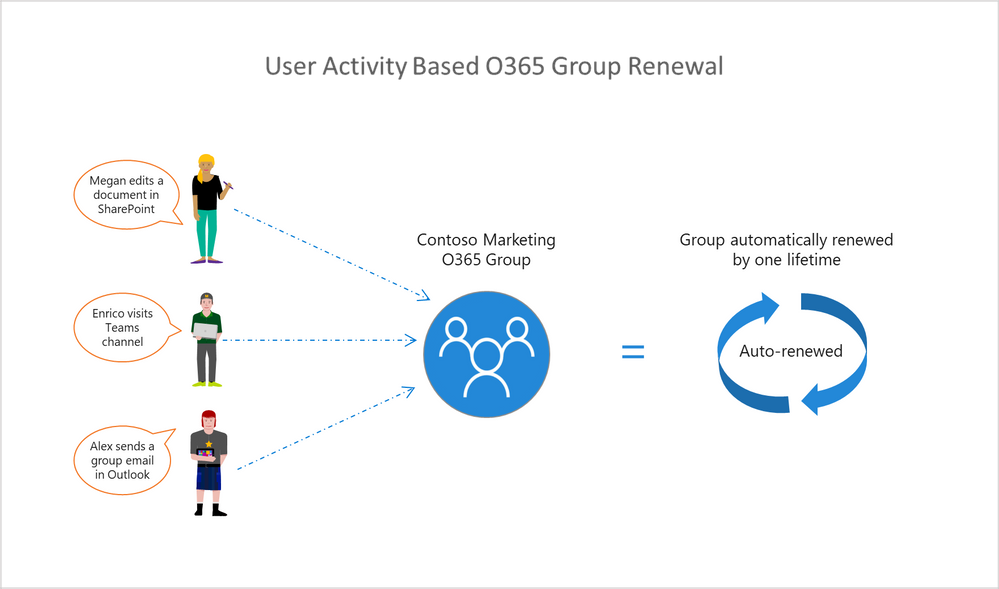 Renewed group list in Azure portal
As explained by Microsoft in the feature's Office 365 blog post announcement, the automatic group renewal will be triggered by the following user actions for the following apps:
• SharePoint – View, Edit, Download, Move, Share, Upload Files
• Outlook – Join group, Read/write group message, Like a message (OWA)
• Teams – Visit a Team's channels
Once the feature will be enabled in the Microsoft Azure portal, admins will be able to get a quick overview of all automatically renewed O365 groups for their organization.

For enrolled Azure AD Premium customers to toggle on the activity-based auto-renewal for groups no action is needed since "if an expiration policy is set for Office 365 groups, auto-renewal will be enabled by default."
Office 365 group owners can also restore their groups' contents after unintentional deletion for several apps including but not limited to SharePoint, Planner, and Outlook for a period of 30 days using the procedure detailed on the "Restore a deleted Office 365 group in Azure Active Directory" page.
I am JEFF ROOT working as an IT professional and holds a very good experience in the same field. You can check my work at www.office.com/setup & www.norton.com/setup